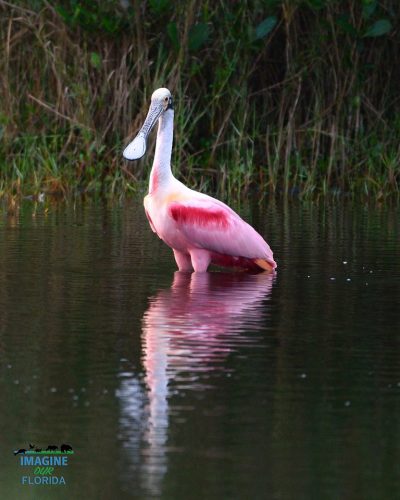 — Roseate Spoonbill ( Ajaia ajaja) —
The Roseate Spoonbill is a dramatic comeback bird. Plume hunters had reduced the bird to just 25 in 1901. With the banning of the plume-hunting trade, Florida set a national example for preservation. By the late 1970s, there were nearly 1300 nests.This is an elegant, rose-colored, wading bird with a shovel-like beak. Spoonbills can be found in mangrove s
wamps, tidal ponds, and saltwater lagoons or other sources of brackish water. The bird is 30 to 36 inches tall with a wingspread approaching 3 to 4 feet. Spoonbills have a white neck with pink or rose feathers covering much of its body. The feathers on their wings are bright red to magenta depending on the age of the bird. The legs are pinkish red. The irises of the eyes of adult birds are bright red.
A Spoonbill's most distinctive feature is the greenish-gray, spoon-shaped beak. On the beak, the nostrils are located near the head, allowing the bird to breathe even with much of its beak underwater. Water must be present for feeding because they can not feed on land. They open their beaks slightly and begin to swing their heads back and forth in the water. This creates small whirlpools and the vibrations of escaping prey are felt by sensors in the beak. The beak then snaps shut, not allowing the prey to escape. Their prey includes shrimp, crawfish, small fish, insects, and other small mammals. Their red color comes from the red algae ingested along with the crustaceans.
Males are slightly larger than females but their coloration is identical. March through June is mating season. Spoonbills form mating pairs for the season but not for life. Females attract males by shaking branches with their beaks. The male approaches while nodding his head and attempts to perch next to her. Six days after mating, 2 to 4 eggs are deposited in the nest. Both male and female help incubate the nest and feed the young. The young Spoonbills leave the nest at 8 weeks. They reach maturity at 3 years.
"How can hope be denied when there is always the possibility of an American flamingo or a roseate spoonbill floating down from the sky like pink rose petals?"
Quote -Terry Tempest Williams
Photo credit -Dan Kon