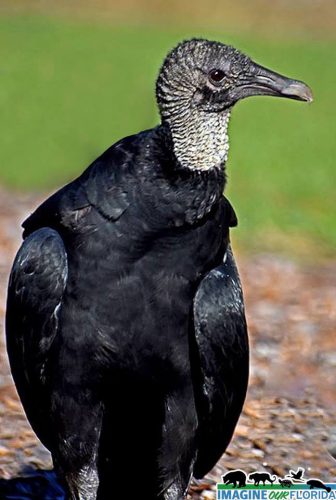 The Black Vulture, Coragyps atratus, is smaller than the Turkey Vulture, although it still is a large raptor. They have a dull black head and body with wrinkles covering their head and face. The tips of their bills are gray and their legs are pale white. Black Vultures have a wingspan of 54 inches and their wings have white tips on the underside. They weigh 3 to 5 pounds and stand 22 inches tall. While in flight, they will hold their wings flat and will flap them more often than the Turkey Vulture.
Black Vultures are monogamous, often not straying far from their mate. Females will lay 1 to 4 egg clutches between February and June in caves, hollow logs, or thickets. Although they do not build nests, they will dig a hollow and put vegetation around it to make it secure. The nesting period can be up to 100 days with the eggs hatching within 40 days. Together, they will feed their young for up to 8 months. This dependence helps establish the strong social bonds these birds exhibit.
As carrion eaters, they are often found in landfills or along roadways where they feed on roadkill. They will usually return to known food sources instead of actively hunting. Black Vultures do not have the keen sense of smell other vultures have and must find their food by sight. You will find them roosting in tall trees or on electrical pylons where they can easily spot
food in open areas.
The Black Vulture is protected under Federal Law and can not be killed without a permit from the US Fish and Wildlife Service.
Photo Credit: Dan Kon